Queremos compartir con vosotros este ejército Eldar Oscuro y su portal de la telaraña que se presento al Armies on Parade 2014.


We wish share this Dark Eldar Army and its Webway Gate, a contestant from Armies on Parade 2014.
Después de participar en el Armies on Parade 2014 con nuestro
Ejército Imperial
, hicimos un recorrido por facebook para conocer a otros participantes. De entre todas las piezas, creémos que hay una que destaca. El ejército Eldar Oscuro de Taro Modelmaker
After take part in Armies on Parade 2014 with our Empire Army, we had a look on facebook to meet anothers contestant. Among all boards there was one wonderfull and great work!, It was the Dark Eldar Army and its Webway Gate by Taro Modelmaker.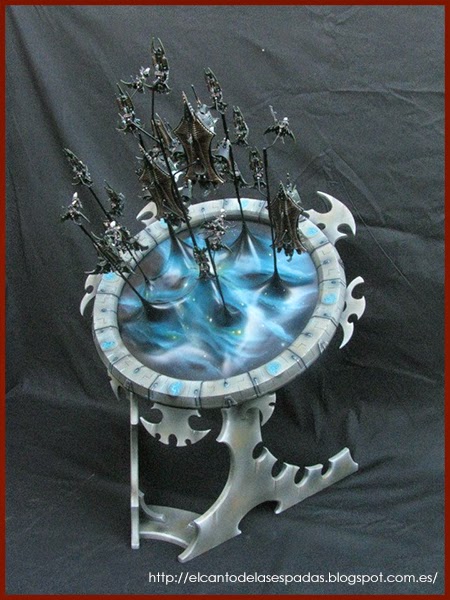 A pesar de que difícilmente podría ser campeón, pues no cumple con una de las normas del concurso (todas las miniaturas deben presentarse con su peana de juego),es precisamente esta carencia la que hace que destaque sobremanera.
Even though the board was one of the best, It could´t win the competition due to the fact models had not bases.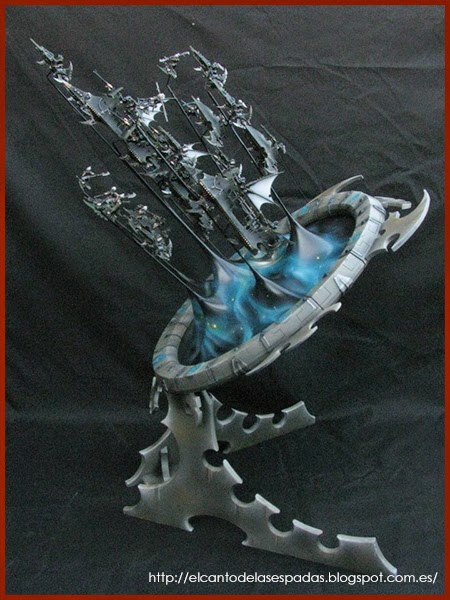 La pieza representa una flota Eldar Oscura atravesando un portal de la Telaraña. Un planteamiento muy original en el mundo de las miniaturas, pero no tanto en el cine, ya que recuerda bastante a los Wraith de Stagate Atlantis atravesando un Stargate.
The concept is very interesting. It reminded us Wraiths by Stagate Atlatins crossing a Stargate. Anyway the work is excelent!
El pintado es simple pero muy limpio y correcto. Personalmente solo echamos de menos alguna figura más sobre los incursores, que se ven un poco vacíos.
Painting is simple and wonderfull. The only thing that we would like was diferent is the crew, just add more models.
Os incluimos ademas un vídeo que muestran como construyo el portal, la verdad es que no tiene ningún desperdicio.
If you wish know how Taro Modelmaker did the WebwayGate, just click on the video!