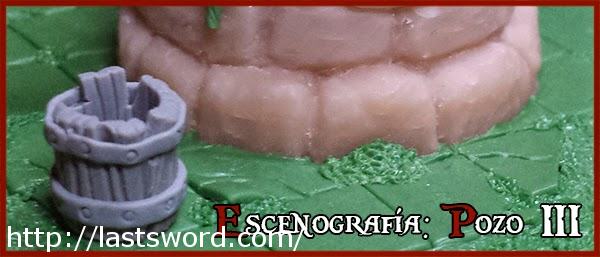 Trabajando todos los días aprendemos a esculpir.
Working every day we learn to scult.
Las refriegas en 1650 A Capa y Espada o Mordheim (Empire in flames) suelen ser rápidas, sin embargo a veces las batallas a Warhammer Fantasy se alargan demasiado. Esto  es algo que también suele pasar con los proyectos de escenografía.
We don´t often need a long time to play a game of 1650 A Capa y Espada or Mordheim (Empire in flames), but a Warhammer Fantasy battle is no the same. Scenery projects could be like a Warhammer Fantasy battle… taking a long time before it´s done.
Haríamos  la base utilizando plasticard de 1mm que texturizaríamos, así que lo primero fue dibujar la peana.
We draw the base on a plasticard sheet (1mm).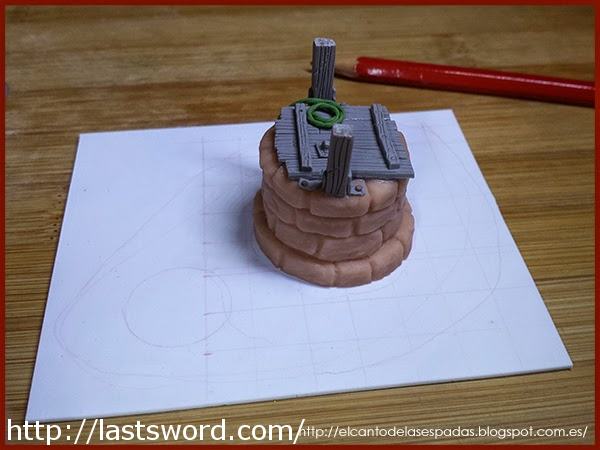 Después recortamos la peana.
Then we cut the piece.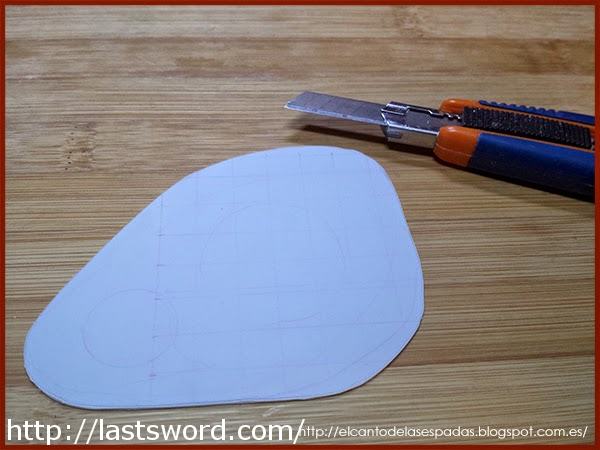 Íbamos a recubrir la peana de losas de piedra, así que preparamos algunas con Super Sculpey Firm.
All the base was going to be cover by square flagstone, so we sculted the pieces using Super Sculpey Firm.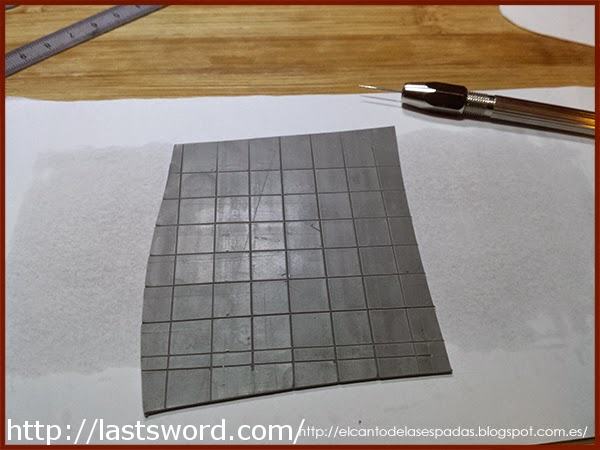 Finalmente nos decidimos por utilizar masilla verde y así seguir aprendiendo a hacer cosas con ella.
Finally we decided use green stuff instead of Super Sculpey. We need improve our sculpting skill with green stuff.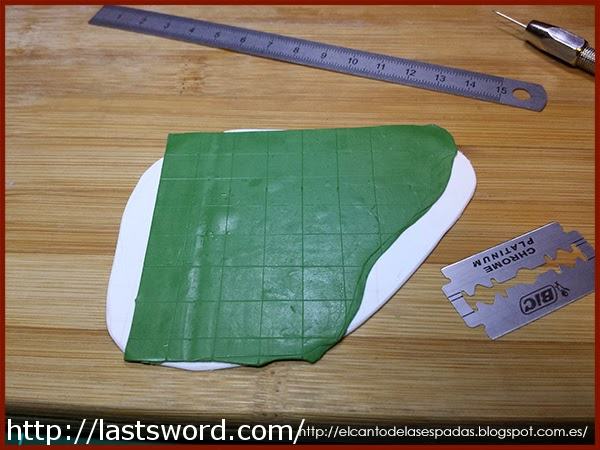 Cortamos las losas y las colocamos nuevamente, para que no quedasen del todo alineadas.
We cut and placed not aligned the new square flagstones.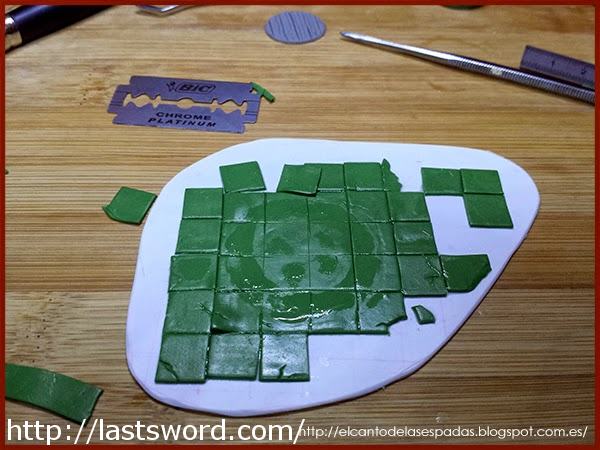 Para integrar bien el pozo hicimos un agujero en la masilla verde donde iría la pieza.

We cut a circle where the water well will be placed.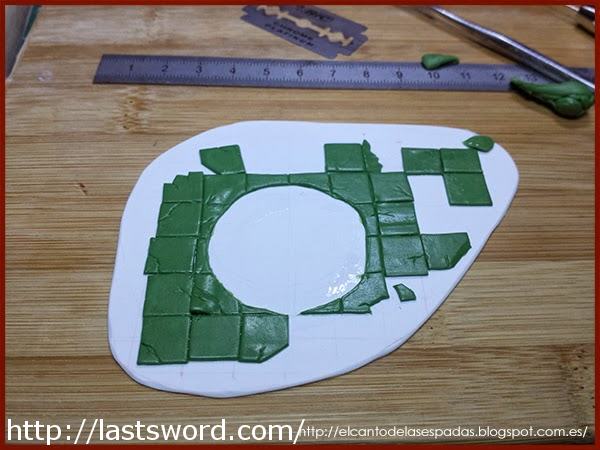 Después empezamos a colocar masilla verde y a esculpir el detalle del suelo.
We took green stuff to scult the ground.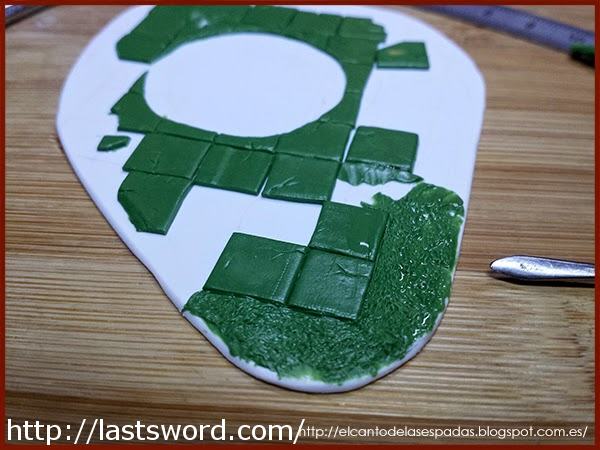 No parecía una peana muy grande, pero al final nos llevo un buen rato terminarla.
Covered all base took a lot time, but we could finish finally.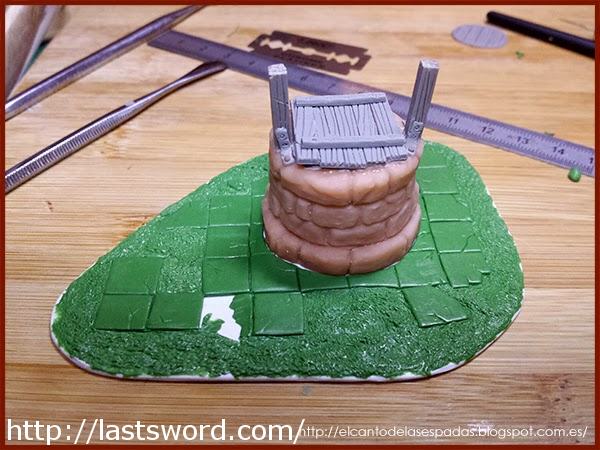 Le añadimos algo de vegetación entre las losas.
We added a bit of vegetation between squared flagstones.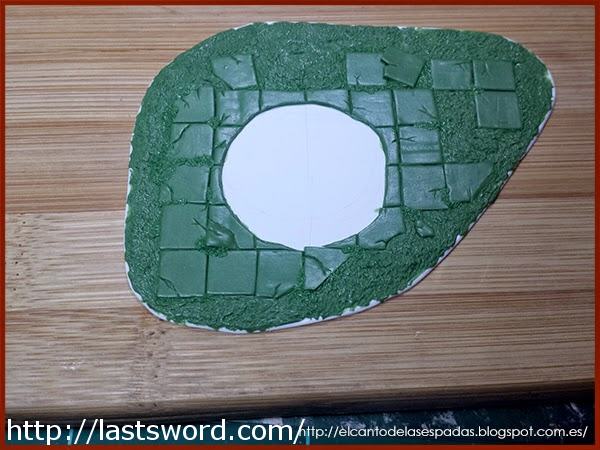 Solo nos faltaba texturizar los bordes con más masilla verde.
We had to cover base edge with green stuff.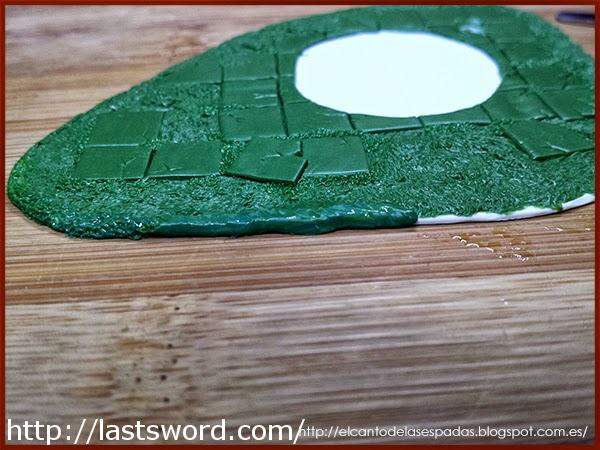 Y así terminamos la base del pozo.

And the water well base was finished.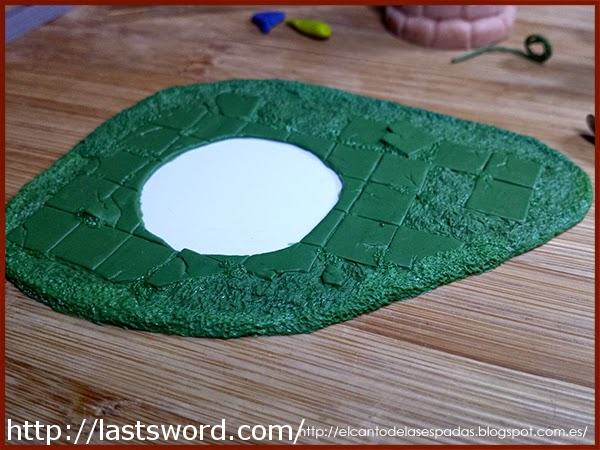 Con el pozo terminado y la peana lista, solo nos falta pegarla y pintarlo. Nuevamente el proyecto de escenografía se nos alarga un poco más, pero seguimos aprendiendo cosas.

Now that the water well and the base was done, we can glue all pieces and paint. Once again our scenery project takes much time because we are still learning… next entry it will be finish!