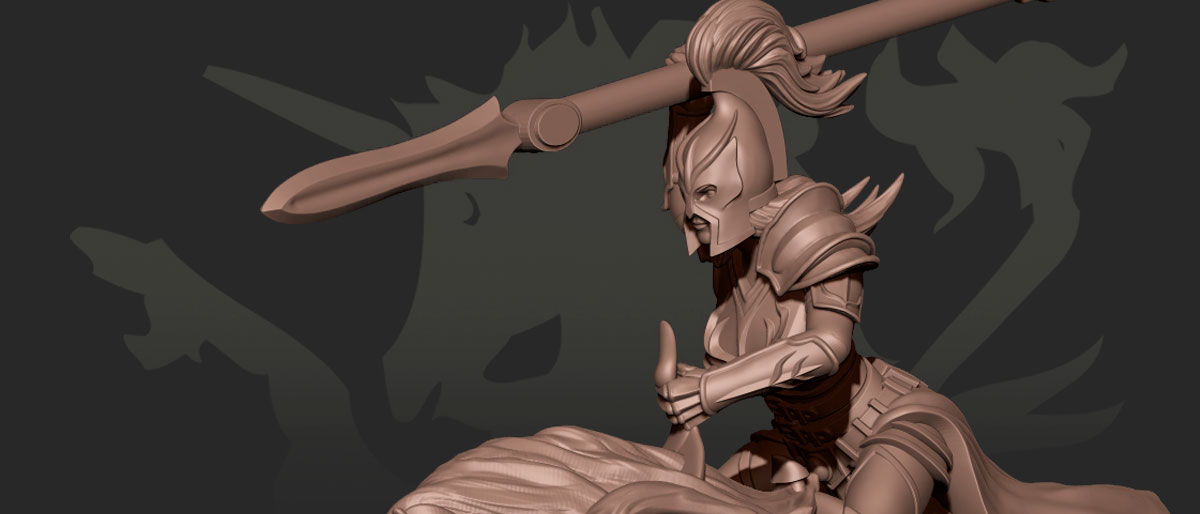 This is our first mounted on horse model that we have done. Furthermore is a woman! .. an elven woman. Elven Princess in one of the miniatures that you can get for free in our Kickstarter Elven Lords: Dragon's Roar.
We have been thinking about to do a mounted miniature for long time. Finally we found the way to do it without sculpt a full mounted regiment. Elven Princess is our first attemp with horses.
Elven Princess on horse, a character for our kickstarter campaign.
Firstly we wanted to started with a no heavy horse. So we decided left in a side battle horses shapes and use another one who can express movement better.
Amourer with a scale and leather armour, you can see all animal muscles at the back. Over the saddle, an horsewoman hides is face with a full helmet, ready to hit her enemies with an elven spear.
A long fabric falls from elf's waist to horse's croup. Finally we has added some gems to remains that is an elven miniature.
This is a scale test picture of our Elven Princess with a Elven Spearmen, a 32mm miniature. Furthermore a picture of a real mounted horse.
We would like can to tell you more about our Princess but we have no time enough now that we are working in the campaing's launch.
This is only our first mounted miniature, soon we would like to do regiment.  Reavers, Silver Helm Knights, Dragon Princes(dragon or horse?) we are not sure, but any option is possible.
As soon as we can paint an Elven Princess we going to show up here!
What do you think about our first mounted miniature?