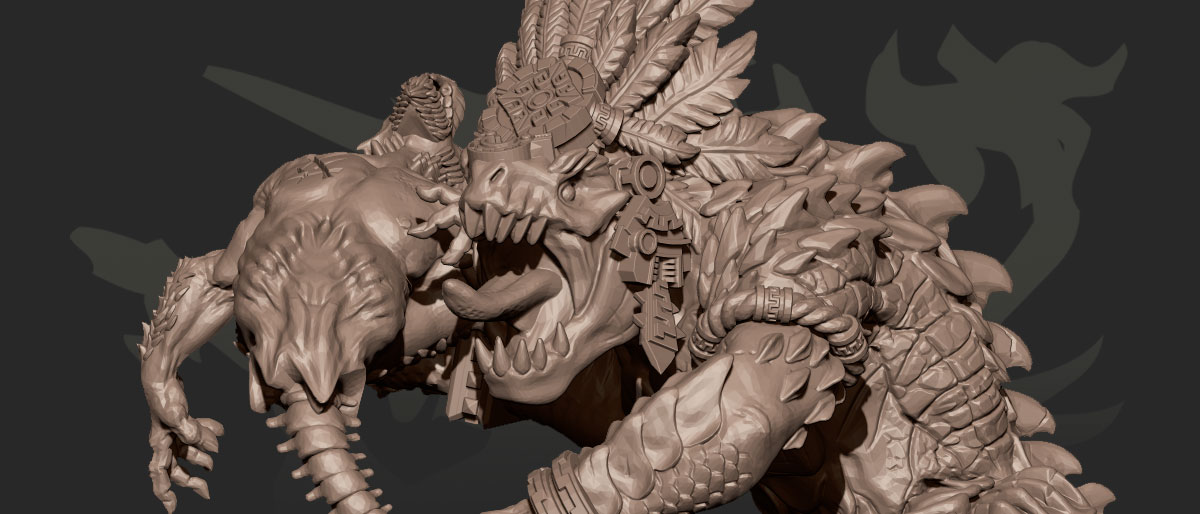 This week we have something special for all of you! Stephane is our new best friend, and new team member as a sculptor. We exhibited his excellent work for the first time during the Freak Wars 2018 show, NazKa-Y, ancient caiman.
We met him for the first time on instagram a couple years ago. His excellent lizardmen designs were calling everyone's attention and we immediately thought that he would go very far with them. Last summer he sent us an email asking details about wargaming industry. From now on, we have been working together, developing a new range of miniatures and our following kickstarter campaign for lizarmen: The Awakering of the Jungle!
He is a great sculptor, and will also help us with writing the articles for our website. So ladies and gentlemen, Stephane! clap, clap, clap!
A new range of lizarmen is coming!
Hi everyone.
The realm of ancient civilizations has always inspired my creativity. That combined with my love for dinosaurs and the discovering of 3D modeling I couldn't helped myself on starting drawing some models. After weeks of struggling I finally achieved some designs on witch I would love to hear your feedback.
Further more, I always loved Nakai, the hero kroxigor from the lizardmen army. So I thought this would be an excellent point to start from !
The first design I want to share with you is the Caiman Ancient, called Nazak-Y. It is the one I presented for the 3D sculpting contest for the Freak Wars Madrid 2018 witch finished at the third place!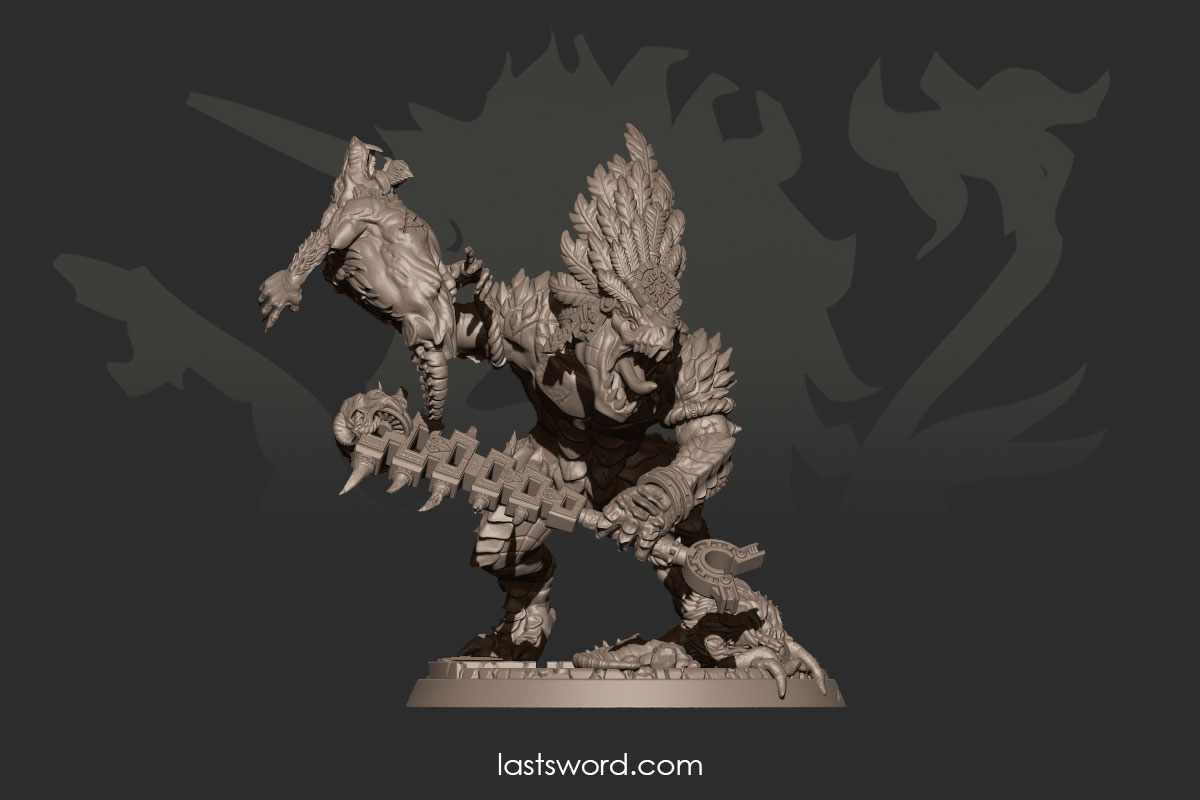 For that concept I wanted to achieve a balance between the fierceness of the creature and the well known majesty of the ancient civilizations covered with gold artefacts and impressive feather outfits. In order to get there I needed to mix a dynamic pose with a lot of aggressiveness. And what better for that than adding an enemy being teared appart !!
Regarding the anatomy of the creature I focused myself on recreating the fierceness of the dinosaurs and others well known predators. It needed to look heavy, strong and big, so I worked mainly on the most distinctive character of the reptiles: the scales. I imagined that this element would be an important feature on my army. So I designed a scale that could change according the size and rank of the creature but always keeping the same essence.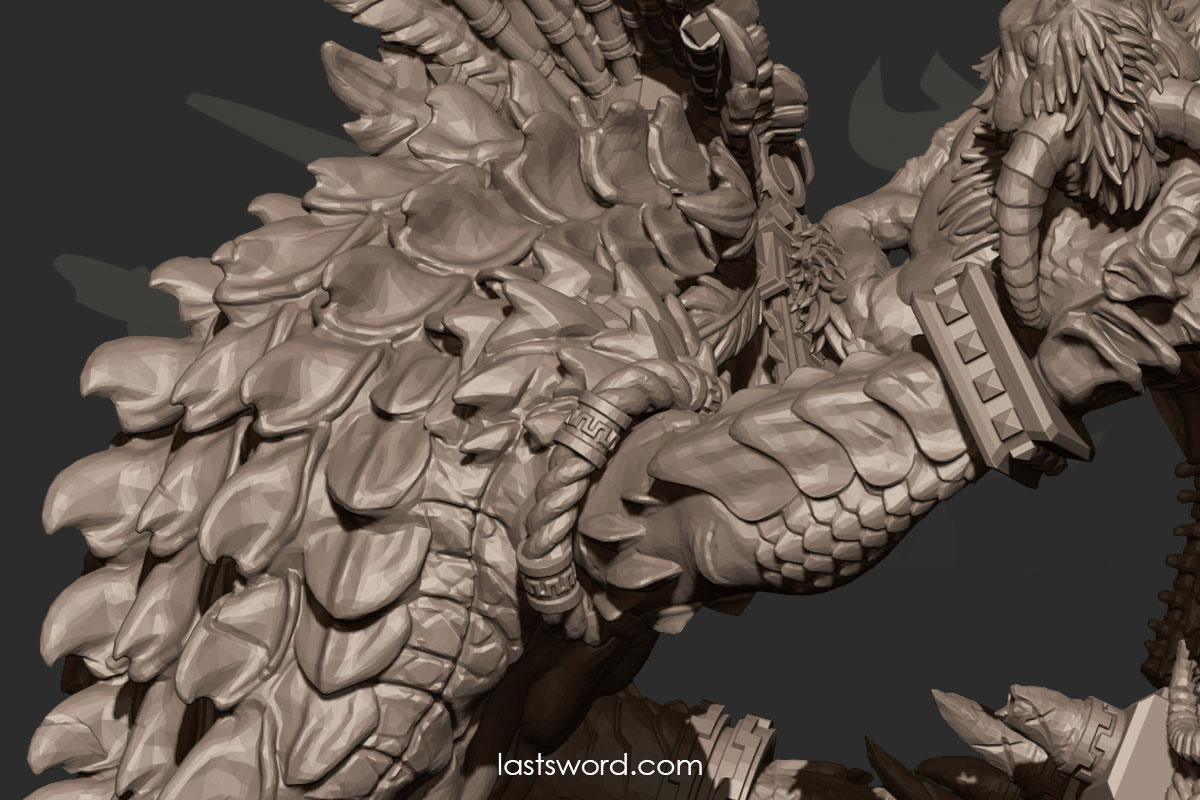 I really hope you'll enjoy that design as much as I do. Stay tuned on our website and instagram account because plenty other models are coming in this kickstarter campaign: The awakering of the jungle !
What model would you like to see next?