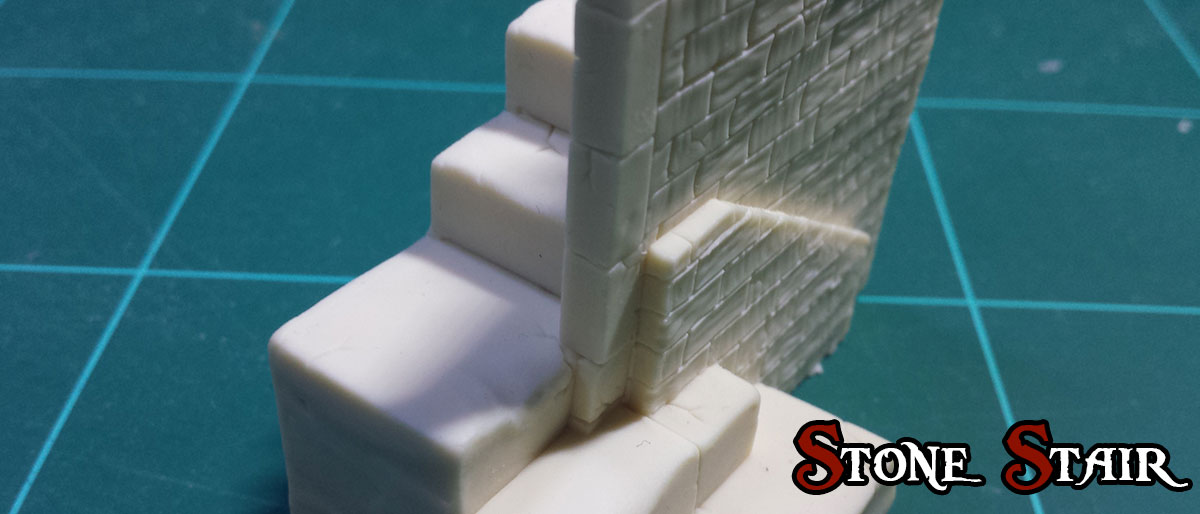 We love do scenery for  Warhammer Fantasy, Mordheim and Frostgrave. Now that our ruined houses are done ,we have decided to work in extra details that we can place into the buildings. The first of these details will be a stone stair.
We are the kind of people who thinks that details could be the different between a good work and a great work. We see that every day in scenery, tabletops, bases, even figures. Right now is the time to add our own extra details!
Stone stair for Mordheim and Frostgrave.
When we sculpted the ruined house and the big ruined house, we did two floors. A stone stair will be a great element to join both surfaces and a very interesting place to fight!
We knew stone stair size because it must be fit into ruined houses. So we took scupersculpey clay and started modelling steps.
Afther do stairs  we  sculpted stone walls. We used the steps to mesure the walls in a  clay sheet.
We drew each block and cut the clay. Finally we put all together to check the joins.
With everything ok, we detailed  the walls.
We had our stone stair. But we wanted add extra details. Frist a couple of  column with a decorative element on top.
We added a stone banister.
Before finish, we add stone texture and weared away the steps.
We were so happy with the stone stair, so we baked the clay. Then we did a mold and a resine copy.
Another element that we can add to our ruined houses, as the shutters. We were thinking about to do a stairs for a long time, and finally we go it!
Now we can image our Mordheim and Frostgrave figures defending their positions in the stone stair!
What do you think about our stone stair?