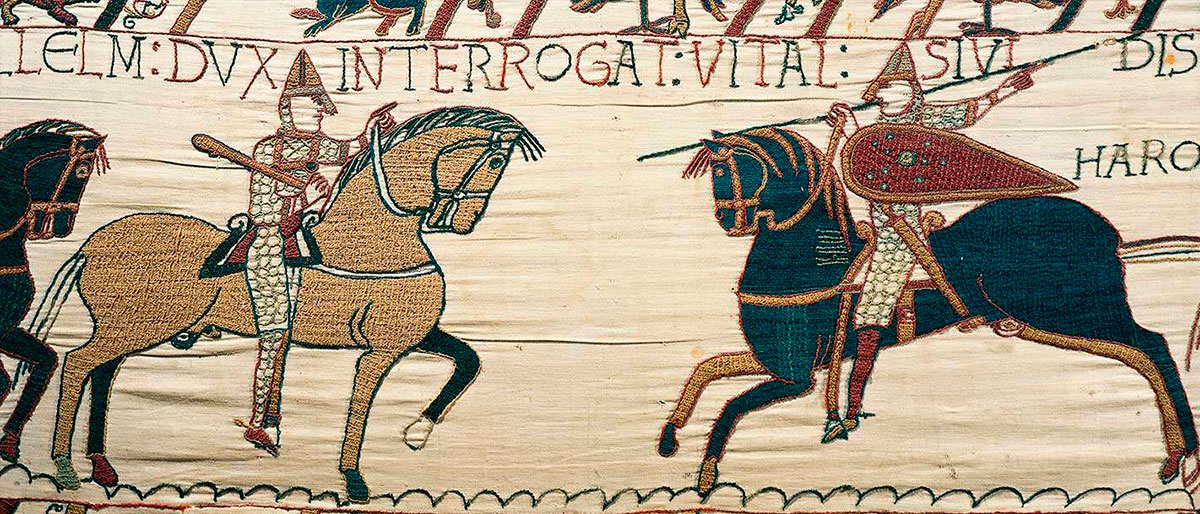 Bayeux tapestry made in the XI century, is a excellent medieval work. These last week we are so busy with elves, so today we would like to share this tapestry and keep going with kickstarter orders.
Hi guys, we are so close to can send kickstarter parcels. Nowadays we have no time to do anything else. But this is a great opportunity to show up Bayeux tapestry.
Into its 70m, history before Hastings battles has been tell in the patestry.
"EDWARD REX UBI:HAROLD DUX: ANGLORUM:ET SUI MILITES: EQUITANT: AD BOShAM:ÆCCLESIA"
Where Harold, an earl of the English, and his soldiers ride to Bosham. Where Harold, an earl of the English, and his soldiers ride to Bosham.
"HIC HAROLD MARE NAVIGAVIT ET VELIS PLENIS VE= =NIT: IN TERRA: WIdONIS COMITIS"
Here Harold sailed the sea, the wind full in his sails. He came to the country of count Guy
"hIC: APPREhENDIT: VVIDO: HAROLDU(m) ET DUXIT: EUM AD BELREM: ET IBI EUM: TENUIT UBI: hAROLD: (et) VVIDO: PARABOLANT"
Here Guy seizes Harold and led him to Beaurain and kept him there.
"UBI: NUNTII: VVILLEMI: DUCIS: VENERUNT: AD VVIDO NE [TUROLD]"
Where Harold and Guy talk.
"NUNTII: VVILLEMI"
William's messengers.
"HIC VENIT: NUNTIUS: AD VVILGELMUM DUCEM"
Here the messenger comes to Duke William.
"HIC: VVIDO: ADDUXIT hAROLDUm AD VVIGELMUM: NORMANNORUM: DUCEM"
Here Guy brought Harold to William, Duke of the Normans.
"HIC: DUX: VVILGELM: CUM hAROLDO: VENIT: AD PALATIU SUU (palatium suum) UBI: UNUS: CLERICUS ET: ÆLFGYVA"
Here Duke William comes to his palace with Harold. Where there is a cleric and Ælfgyva
"hIC VVILLEM: DUX ET EXERCITUS: EIUS: VENERUNT:: AD MONTE (montem) MIChAELIS"
Here Duke William and his army came to Mont-Saint-Michel.
"ET hIC TRANSIERUNT: FLUMEN: COSNONSIS"
And here they crossed the river Couesnon.
"hIC: hAROLD: DUX: TRAhEBAT: EOS: DE: ARENA"
Here Duke Harold pulled them out of the sand.
"ET VENERUNT AD DOL: ET: CONAN: FUGA"
And they came to Dol, and Conan fled.
"REDNES"
[Rennes]
"hIC MILITES VVILLELMI: DUCIS: PUGNANT: CONTRE DINANTES: ET: CUNUN: CLAVES: PORREXIT"
Here Duke William's soldiers do battle with the men of Dinan, and Conan surrendered the keys.
"hIC VVILLEM: DEDIT: hAROLDO: ARMA"
Here William gave arms to Harold.
"hIE (hic) VVILLELM VENIT: BAGIAS"
Here William came to Bayeux.
"UBI hAROLD: SACRAMENTUM: FECIT: VVILLELMO DUCI"
where Harold swore a sacred oath to Duke William.
"hIC hAROLD: DUX: REVERSUS: EST AD ANGLICAM: TERRUM ET VENIT: AD: EDVVARDU(M): REGUM"
Here Earl Harold returned to the English land and came to King Edward.
"hIC PORTATUR: CORPUS: EADVVARDI: REGIS AD: ECCLESIAM: S(AN)C(T)I PETRI AP(OSTO)LI"
Here is carried the body of King Edward to the church of St Peter the Apostle.
"hIC EADVVARDUS: REX IN LECTO ALLOQUIT(UR): FIDELES: ET hIC DEFUNCTUS EST"
Here King Edward in bed speaks to his faithful, and here he is dead.
"hIC DEDERUNT: hAROLDO CORONA(M): REGIS hIC RESIDET HAROLD REX: ANGLORUM [STIGANT ARCHIEP(ISCOPU)S]"
Here they have given the crown of king to Harold. Here sits Harold King of the English. [Archbishop Stigand]
"ISTI MIRANT(UR) STELLA(M)"
These (men) wonder at the star.
"hAROLD"
[Harold]
"hIC: NAVIS: ANGLICA: VENIT. IN TERRAM VVILLEILMI DUCIS"
Here an English ship came to the land of Duke William.
"HIC: VVILLELM DUX IUSSIT NAVES: EDIFICARE"
Here Duke William ordered ships to be built.
"hIC TRAhUNT(UR): NAVES: AD MARE"
Here the ships are dragged to the sea.
"ISTI PORTANT: ARMAS: AD NAVES eT hIC TRAHUNT CARRUM CUM VINO: ET ARMIS"
These (men) carry arms to the ships and here they pull a wagon with wine and weapons.
"+ hIC VVILLELM: DUX: IN MAGNO: NAVIGIO MARE TRANSIVIT ET VENIT AD PeVeNeSÆ"
Here Duke William in a great ship. The sea crossed and came to Pevensey.
"hIC eXeUNT: CABALLI De NAVIBUS eT hIC: MILITeS FeSTINA VeRUNT: heSTINGA: UT CIBUM RAPEReNTUR"
Here the horses leave the boats and here soldiers hurried to Hastings to seize food.
"HIC EST VVADARD: hIC: COQUITUR: CARO ET hIC MINISTRAVeRUN(T) [MINISTRI]"
And here soldiers hurried to Hastings to seize food.
"hIC FECeRUN(T): PRANDIUM: ET hIC EPISCOPUS: CIBU(M): ET: POTU(M) BENEDICT"
Here is Wadard. Here meat is cooked and here it has been served. [The servants] Here they have made lunch,
and here the bishop blesses the food and drink
"ODO EP(ISCOPU)S: VVILLELM: ROTBERT"
[Bishop Odo, William, Robert]
"ISTE JUSSIT: UT FODEReTUR: CASTELLUM: AT. HESTENGACEASTRA"
This (man) has ordered that fortifications should be dug at Hastings.
"HIC NUNTIATUM EST: VVILLELM DE hAROLD(o): hIC DOMUS: INCENDITUR"
Aquí Guillermo es informado acerca de Harold. Aquí una casa es quemada
"hIC: MILITES EXIeRUNT: De hESTeNGA: ET: VENERUNT AD PReLIUM: CONTRA: hAROLDUM REGe(M)"
Here soldiers went from Hastings and came to battle against King Harold. Soldiers went from Hastings and came to battle against King Harold.
"HIC VVILLeLM: DUX INTERROGAT: VITAL: SI VIDeSSET HAROLDI EXeRCITU(m)"
Duke William questions Vital if he has seen Harold's army.
"ISTE NUNTIAT: HAROLDUM ReGE(m) DE EXERCITU(m) VVILELMI DUCIS"
This (man) tells King Harold of Duke William's army.
"UT PRePARAREN(t) SE VIRILITER ET SAPIENTER AD PReLIUM: CON(t)RA ANGLORUM EXERCITU(m)"
They prepare themselves manfully and wisely for the battle against the English army.
"hIC CECIDeRUNT LeVVINE eT: GYR-D: FRATRES: hAROLDI REGIS"
Here were killed Leofwine and Gyrth, brothers of King Harold.
"HIC. ODO EP(iscopu)S: BACULLU(m). TeNeNS: CONFORTAT PUEROS"
Here Bishop Odo holding a staff rallies the young men.
"hIC EST VVILEL(mus) DUX [E—–(T?)IUS] (EUSTATIUS)"
Duke William [Eustace].
"hIC FRANCI PUGNANT ET CeCIDeRUNT QUI eRANT CUM hAROLDO"
Here the French fight and killed those who were with Harold.
"hIC hAROLD: REX INTERFeCTUS: EST"
Here King Harold has been killed.
"ET FUGA: VERTERUNT ANGLI"
And the English have turned to flight.
We hope that you like it!
We are sorry for can bring elven news, but this week you must wait!
Thank you guys!