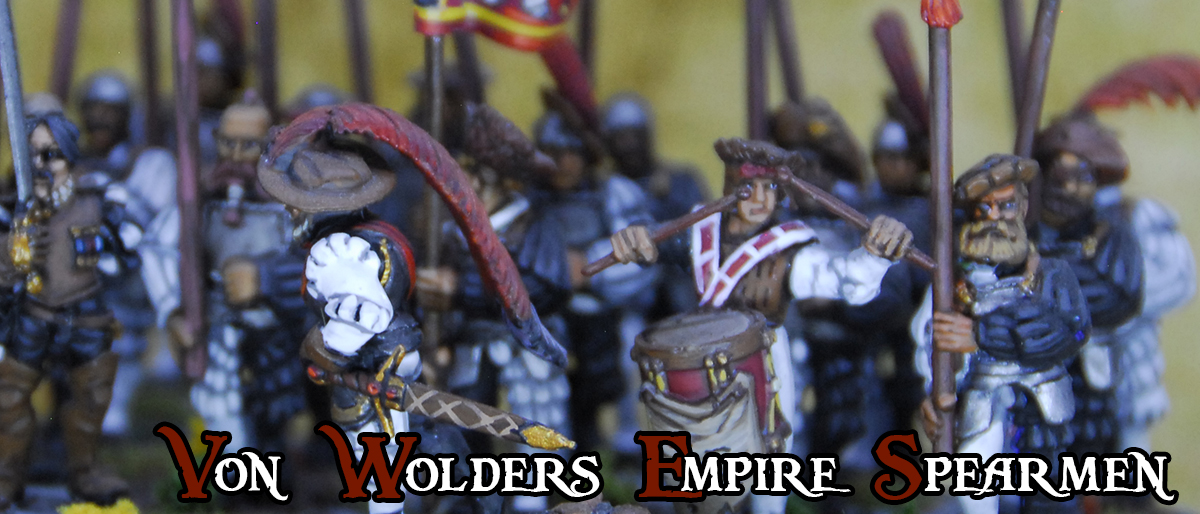 State troops are backbone of The Empire armies in Warhammer Fantasy. Spearmen use to wait enemy charges with they spearheads ready to hit to them! Von Wolder Spearmen are one of our Ostland regiment.
"Look these noble guys, with they battle horse and their lances…"
To us is very important that each regiment of our armies in Warhammer Fantasy tell a story. For that reason we do things like Ostland empire Warcamp or small sceneries inside the base. This is the story that Vol Wolder Spearmen tells.
We try that our regiments tell a story.
"Baron Gustav von Wolder, Lord of Salkalten, reviewing to their forme in lines spearmen with the Sargent, followed by his  loyal dog."
Salkalten was a small fishing village established in the year 2462. Noways the Count tries to divert Mariembughr commerce. While the city gets its objetive, Von Wolder go to the battle serving Ostland Count.
The regiment is formed by sixth edition Warhammer Fantasy empire spearmen. We changed several heads, to add diversity.
The same model could look diferent with a small conversion.
We wish that they look as troops marching.
We hope that you like our State troops, spearmen of The Empire for Warhammer Fantasy!