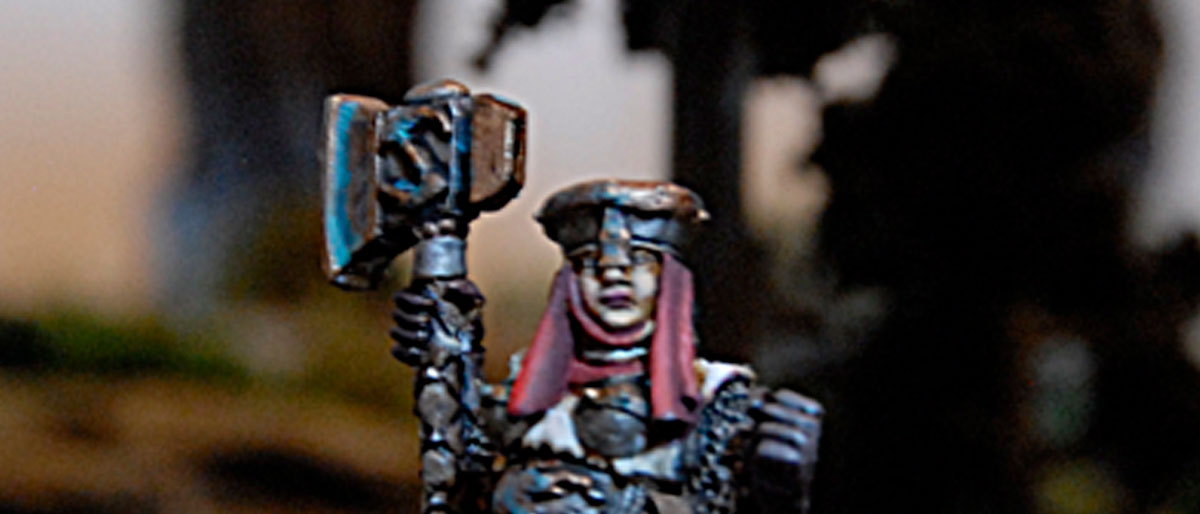 Not a long time ago we shown you how we used the new paints from Citadel: Special Effects. At that time we used Agrellan Earth on some bases. Now we will experiment with Nihilakh Oxide. As the experiment subject, we chose the Sigmarita Matriarch from the Mordheim band we're preparing to try the rules from the Mordheim Return.
Nihilakh Oxide Paint is from the Technical line, whose finality is to reproduce the effects that metal like bronze or cobalt suffer by turning into Green-grey tones duringtime.
We subtly applied it over the armour and helmet of Sigmarita Martriach with the goal of not giving a impression of a helmet poorly taken care of. We selected places of bronze (helmet, armour and hammer) and softly applied Nihilakh Oxide.
In the sigmarita hammer we were more generous than we were with the armour. It's a relic from the convent and with Nihilakh Oxide the time has left its track, ageing it. We applied it in small portions but we ended up using more Paint cause the result didn't convince us at all. We cleaned the hammer profiles with Golden Paint to stand out this effect.
Same as Agrellan Earth, this Citadel: Special Effects doesn't contribute a new effect to painters, but it simplifies a lot the technique to achieve a Green-gray. Using Nihilakh Oxide with ink and lightning even the most novice will get great results.
Once our Sigmarita Matriarch was ready to confront the shadows of Mordheim, we looked for other ways for using Nihilakh Oxide, and that's what we found on internet:
How do you feel about the posibilities of this new Citadel: Special Effects paint?