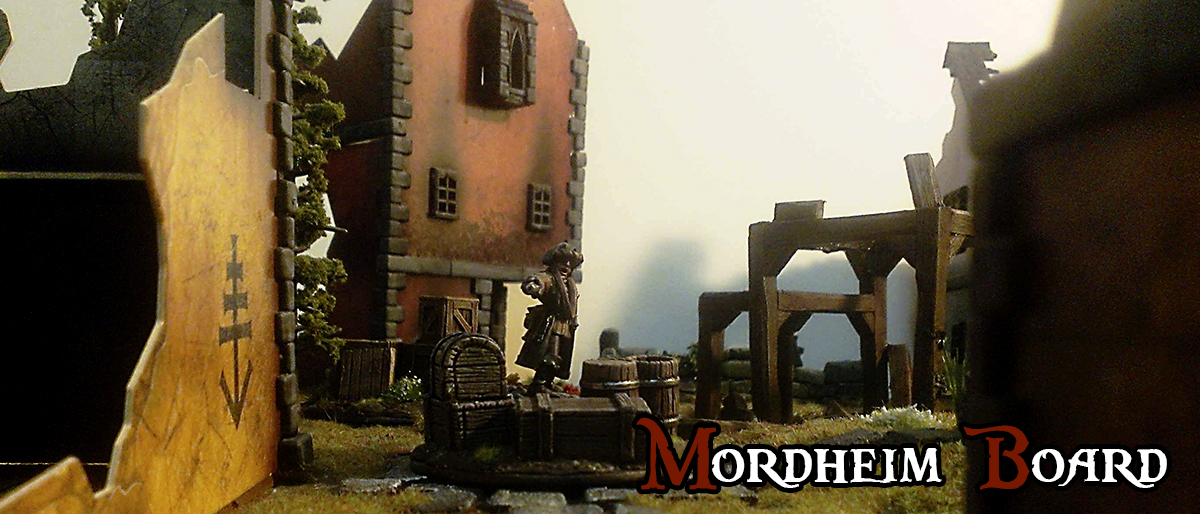 Today we set up Mordheim streets. We make the most Games Workshop Mordheim scenery to do a modular board.

When we bought Mordheim scenery box, we placed it on top of theshelves into a dark room. Sometimes happen if you have to much… but no enough wargaming!
We took back from the cellar and thought about build a small city to play Mordheim again at home. We were thinking about how can we do it. First we wanted used to the cartoon house to don´t waste it. Second, scenery must be use in diferent ways. So we started to think about a modular board.
Mordheim is not only city the of damned!
We will use 30x30cm boards with stone ways. We were still thinking about Empire in flames, so we would like no Mordheim, just a desvatated city into the Empire.
We cut small pieces of foar, enough to do a road. Then we glued each piece on the board.
Besides the roads to do drawn the streets, we add a wooden base for each building on the base.
Then we add some details like a stone wall, a orchard, a square, a water well, etc. Then we add sand and static grass.
Although Mordheim is a dark city, we were thinking about Empire in flames, so our city could be a country city. For that reason we added some trees and plants.
Even in Mordheim you can find trees growing.
Finals details, a Warhammer fantasy statue and a warcamp. Our boards for Mordheim are ready!
This is our frist steps into Mordheim citi of the damned. With out no duobt, we will do more in the future.
Right now, we can play Mordheim, Empire in flames, 1650 A capa y espada even Warhammer Fantasy with hour new devastated city!
We hope you like it!