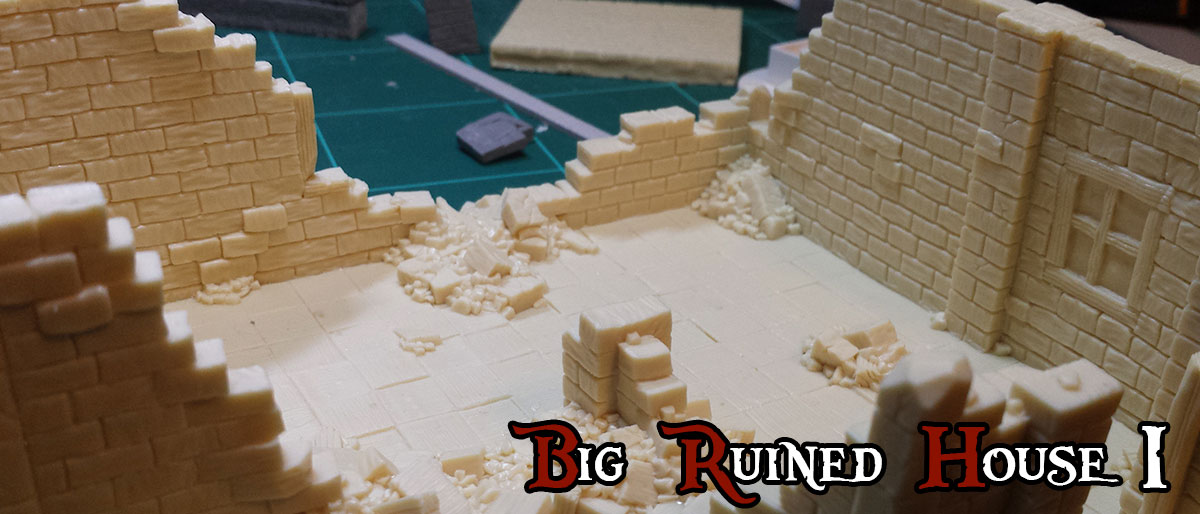 Buildings in a Warhammer fantasy and Kings of war battlefiled battle use to be a obstacle, but playing to Mordheim (Empire in flames) and Frostgrave is so different. A village will be our next scenery challenge, we have started to do a big ruined house.
We don't like play with a scenery piece here or there over the tabletop. Scenery should creates an atmosphere where our Mordheim bands, Frostgrave wizars and Warhammer fantasy armies could get the brief glory.
Afther "the water well", "wooden gate & stone walls" and our "ruined house", it is time to add new items to our village.
Warhammer fantasy scenery: water well, walls, wooden gate… what else?
A big ruined house for Mordehim (Empire in flames) is our next job. This time we would like to do a building bigger than our firts ruined house, but faster. For that reason we took all resouces that we had.
We had had some copies of our ruined house so we took one of them. It will be the base for our new scenery.  Floor shape will be differente, but we wanted to keep architectural style.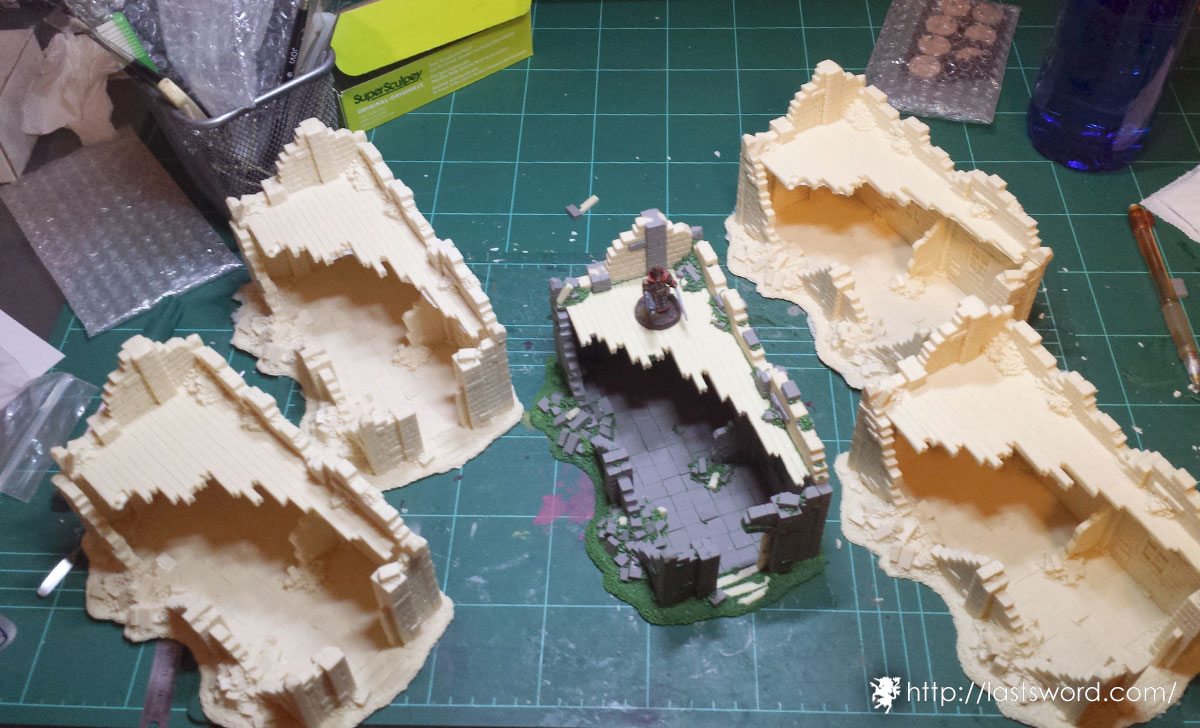 Big ruined house will have a L shape, will be too much spacious.
We started cutting in a half our wonderful ruined houses for Mordheim (Empire in flames). We use a saw, a hacksaw, cutters, and everything that we could find to cut really hard resin. Finally we got it!
We sculpt brick edges, our big ruined house was getting the form!
We had both sides of L shapen, so we needed to do the corner.
Thanks to our scenery library we didn't need to sculpt another "stone floor". Just we crafted a newone with resin and cut off the excess.
A high stone wall and a small one, another resin element from our scenery resources library. We placed them, our big ruined house's ground was closed!
Cut resin is not easy, it is so hard and so messy besides tool's sharp edges become to blunt. We have the ground form, great!
Thanks to our scenery resources library we expect could finish the big ruined house fast. Soon we be able to play Frostgrave, Morhdeim (Empire in flames) and Warhammer fantasy with a new scenery.
What do you think about our new building?